by

GLITCH 2.0 Playing Cards are on Kickstarter now – click this link to be taken to the project page.

No need to adjust your screens. We are experiencing a slight technical glitch, and we apologise for any disruption.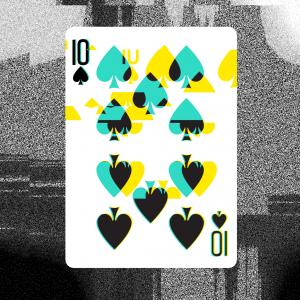 OK, so… we have Windows 10, the iPhone 6, Playstation 4, and now Glitch 2.0. When a product is a huge success the creators will always find a way to release a newer, bigger, brighter, bolder version to satisfy the ever-growing demands of the buying public.
San Francisco-based Swiss designer Soleil Zumbrunn knew she was on to a winner when the first edition of Glitch playing cards sold out after being successfully funded on Kickstarter in June 2014. 500 backers pledged almost $16,000 to ensure that the original deck went into production, and now GLITCH 2.0 hopes to achieve the same level of acclaim. With 62% of the funding goal of $12,000 already achieved it's safe to say that this 2nd generation deck is sure to match, if not exceed, the triumph of the first.
A laboriously simple concept in playing card design, GLITCH 2.0 is a re-vamped, bolder and even glitchier deck of cards than it's older sibling. While this deck almost looks as if it's simply been mis-printed, in actual fact it is designed to represent digital malfunction, and it took a lot of painstaking work to achieve this look.
There are 2 editions of GLITCH 2.0 – [Circuit Fail] and [Error Msg]. Neon/flourescent inks will be used in the printing process making the cards vibrant and visually impressive, and Legends Playing Card Co. (LPCC) will be printing the deck guaranteeing a smooth finish and spectacular handling.
The deck's designer, Soleil Zumbrunn, has very kindly agreed to answer a few questions for me, so enough of me harping on – I'll let the designer and the deck itself do the selling.
iCollectPlayingCards – Soleil – thank you so much for taking the time to speak to us about your GLITCH 2.0 playing cards. A lot of designers in recent years have been producing decks of cards (with varying degrees of success) and most, if not all, will admit to not being card players, cardists or magicians – simply that they love designing playing cards. What's the deal with you? (pardon the pun :D)
Soleil – Well I am huge card player, from oldie worldie games like Canasta or playing a hand of Texas Hold'em with my brother. I always have a deck in my bag when traveling, it is a great way to get to know people :) And technology does run dry once in a while – and I can always play solitaire! But coming back to your question, after finishing grad school where I had been working fully digital for many years, I itched to do a physical project. One thing led to another and now here we are one year later and I love what I do!
iCPC – Ok, so this deck is GLITCH 2.0 – the first deck was successfully funded on Kickstarter in June 2014, and it was also your first playing card campaign. What came first – the idea to produce a deck of playing cards, or the idea of designing something using the glitch theme?
Soleil – I have been working with distortion and glitch art for quite some time. It being a recurring visual tool in my work to portray emotions. For the holidays I made a one-off deck (very rudimentary/basically chopped up cards) for my brother. He told me I ought a do it for real.
iCPC – A lot of work obviously went into the creation of the decks. With each individual card being spliced up and mish-mashed about before being almost 'Frankensteined' back together, then drawn up as the final card. Was it as time consuming and painstaking as it sounds?
Soleil – (Chuckle) – yes and no. Yes, as in I did a lot of experimenting. But that is my favorite part of the process – don't get me wrong – I like finishing work as well, but the experimenting is where the magic happens, where I get to push my own boundaries, and while it is time consuming it is where I experience my flow.
iCPC – You have recently set up your own business (Art Playing Cards) with your father Dent-de-Lion du Midi, who many Kickstarter backers will know from the amazing Leonardo deck. Given that you both quite clearly have 2 completely different design styles, how well do you work together? Do you have an understanding and a respect for each other that enables you to each get on with whatever projects you are working on? Or are you critical of each others work?
Soleil – Good question! Well we are family first, but we do have a radically different set of aesthetics. But when we are talking about projects we try to stay somewhat objective and just help each other where we can. It is fun – mostly!
iCPC – The first GLITCH deck was printed by United States Playing Card Co. (USPCC). This second deck will be printed by Legends Playing Card Co. (LPCC). This seems to be a trend that more and more campaign creators are following. What was your reasoning behind this change?
Soleil – After seeing the great communication Lawrence (Legends) kept with my father (on Leonardo) I wanted the same engagement for my decks. It is really great having the printer on board with projects and delivering the great quality Legends does.
iCPC – With the Leonardo campaign at the shipping stage, I'm sure your father is hard at work on his next project…. what does the future hold for Art Playing Cards? Will we be seeing any new decks on Kickstarter in the near future?
Soleil – Oh yes! We are in this for the long run. We both have caught the playing card fever… We are mostly in the idea generating phase with other decks, but they are exciting and I can't wait!
iCPC – Thank you for speaking with us Soleil – sounds like we've got some great playing card decks to look forward to – I can't wait myself :)
---
If you're interested in getting in on the funding of the GLITCH 2.0 deck, click here to be taken to the Kickstarter project page. 
{Remember, if you're not too sure how Kickstarter works, I've written a bit of a 'beginners guide' – just click here to get more info.}
---
So, what do you think of GLITCH 2.0 playing cards? Any comments or questions as always are more than welcome so please use the box below. And if you've enjoyed reading this post, please share using any of the social media buttons below. Thanks for reading! :)




by