by

** Gory Images Alert **
Ok, I know we're all adults here (maybe) but I had to pre-empt this review with a warning – these cards are not to everyone's taste. But they are definitely to mine, especially when you know the story behind their design.
So, you're still reading….? Good. I shall continue. You may get settled because this is my longest review to date.
---
Definition of 'REQUIEM' From Wikipedia:
"A Requiem or Requiem Mass, also known as Mass for the dead (Latin: Missa pro defunctis) or Mass of the dead (Latin: Missa defunctorum), is a Mass celebrated for the repose of the soul or souls of one or more deceased persons, using a particular form of the Roman Missal. It is frequently, but not necessarily, celebrated in the context of a funeral."
The 'Requiem' Playing Cards by Swedish based Italian artist/designer Lorenzo Gaggiotti (also known as Stockholm17) tell a dark tale of deception, betrayal, heartbreak, rage, pain and rejection. The fact that it is based on the breakup of a relationship between the designer himself and 'the Queen of Spades' just makes these cards all the more intriguing and fascinating.
This was Stockholm17's first Kickstarter-funded deck, even though his 'follow-up' deck – Heretic – was actually designed first. He had hoped for total funding of $15,000 USD for the project but in actual fact 769 backers pledged a total of $38,412 USD to see the deck in print. That's some achievement for a first-timer.
How would you deal with a broken heart…?
While Taylor Swift and Coldplay may dedicate entire albums to sifting through the ashes of ill-fated relationships, Lorenzo decided to vent his frustration with art. With absolutely amazing effect. He describes this deck as:  "a production of my suffering soul after my ex decided to end a relationship in a drastic and hectic way". Sub-titled 'Chronicles of a Lost Love', this deck is an artistic outpouring of all the emotions not only experienced by Lorenzo, but also by any of us who have not just had our hearts broken, but chewed up, spat out, dunked in acid, put through a blender, and tied to railtracks.
The 'Requiem' deck comes in 2 variations – the Autumn deck (beige) and the Winter deck (light blue). No Spring and Summer because that is when nature is alive and thriving. Autumn signals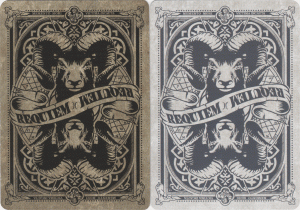 the start of the dying processes while by the Winter months the trees are bare, cold has set in and only the hardiest of flora have survived. While the fronts of the cards themselves are exactly the same in both decks, the design on the box and the backs are essentially the same but coloured differently according to the deck. Depicting a crying ram (the zodiac symbol for Aries) this represents the designer. Aries is synonymous with strength and leadership, yet he is crying. Because he is broken.
The Jokers, court cards and Aces tell the story.
Each face card and Ace is printed with Latin text and Roman numerals. These depict an emotion and a date, with the 55th card in the deck giving an explanation of each one. If we look at this chronologically we see that the suits don't follow the story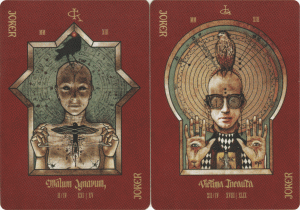 in the order they come out of the box. Except for the very beginning. We start with the 2 Jokers – The Evil Coward and The Unwary Victim. According to the dates on the cards, the events depicted in this deck took place between the 2nd of April and the 24th of July, though no doubt this wasn't the end of Lorenzo's turmoil. The 3rd Joker is entitled 'Celebration' and is dated 10th February (2014) which is the date that saw the successful funding of this Kickstarter project, and which seems to signal closure for Lorenzo – I hope so anyways. I mentioned that his ex featured as the Queen of Spades (Egoism) and I'd love to know if she knows this… and if she does, how did she react…?
Unique pip cards
It is not just the court cards that reflect the distress felt by the designer, but also the pip cards. For ease of reading, the pips are all standard with a couple of exceptions. Of course, they have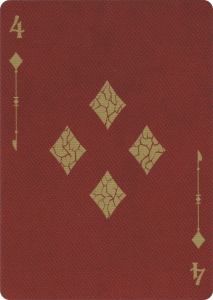 the same blood-red background as the court cards, but also each pip has taken on a new characteristic – the Hearts are broken, the Diamonds are cracked, the Clubs have thorns and the Spades are dried up leaves. If you study closely, each pip on any card across the entire deck is different from the other – that's over 50 differently designed pips in each suit (see the example of the 4 of Diamonds). The Hearts and Diamonds are printed in gold metallic ink, and coupled with the red of the background it actually gives these cards a somewhat elegant feel. Because these cards, in all their darkness, are extremely beautiful.
I mentioned at the start that this is my longest review to date. This is simply because these cards could not be described in a few words. In fact, I haven't done this deck justice – you'd need to see them to fully appreciate them. When you're holding this deck you are holding in your grasp someone's life, love, misery, and pain. It's kind of like reading all about someone's heartache from the pages of their own diary….
To summarise…
Like I've said, the imagery in this deck may not be to everyone's taste. But I love it. I love the artwork. I love the colouring. I love the fact that it tells a story. I love the honesty in it. Men aren't exactly renowned for opening their hearts even to their own friends, so to do it on such a public platform shows pure courage and has to be applauded. The cards themselves were printed by the United States Playing Card Co. on Bee cardstock no less. This give the deck a sturdy yet smooth feel and it is definitely a pleasure to handle.
Again, not one of those decks for playing bridge with Grandma over a sweet sherry… in fact if you should find yourself owning one of these (limited edition so get one quick) they'd probably be one of those decks that you keep in a very safe place to bring out only on special occasions.
I'd love to hear what you think of this deck – do you agree with me? Or are these just too blood thirsty for your tastes? Please feel free to leave a comment in the box below.
Where to buy your 'Requiem' Playing Cards by Stockholm17:
Available from Amazon.com
 and also from Amazon.co.uk
Or, if you'd like to look at the images from this deck without having to take the cards out each time – have a look at this… Stockholm17 have a range of items for sale  – such as a clock, mug, iphone case etc. – featuring a collage of images from the deck. Click HERE to see what's available along with prices.
 {Please note that these items are on Amazon.com and will incur postage charges to buyers located outside of the US.}




by