by

by Jyl. Sun 17th Feb 2019
Grid. Series Three playing cards, is the third and final deck in the Grid. series, designed by London-based graphic designer Luke Wadey. This seems to be a disappointment to Luke's legion of followers, because many of them are already coming up with ideas for a 4th deck. Sorry guys… not happening.
This deck is currently being funded on Kickstarter and if you know a good thing when you see it, you'll be heading over to make a pledge before the campaign ends on 4th March 2019.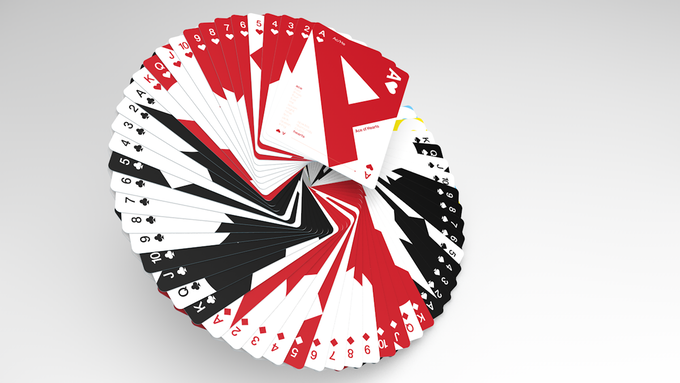 After the huge success of the previous two Grid. decks (Grid. Series One, and Grid. Series Two, obvs) Luke has clearly left his fans wanting more, because at the time of writing this article, and with still another 6 days left in the campaign, Grid. Series Three has attracted 577 backers who have collectively pledged a total of £16,954 (GBP). In fact, the deck was fully funded less than 18 hours after launch.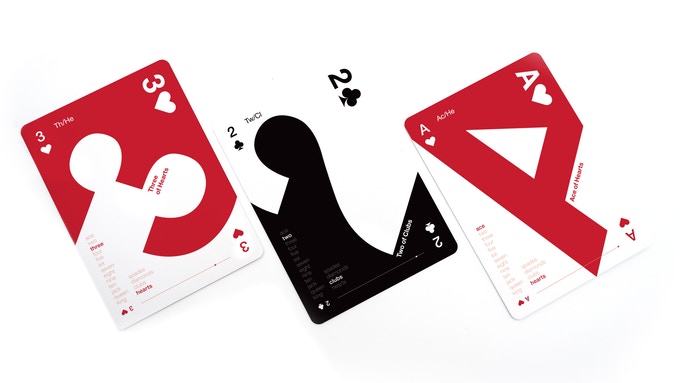 With a one-off print-run of 2000, this deck will be printed by USPCC on their world-renowned classic stock with air-cushioned finish, making these cards perfect for not only us poker enthusiasts, but also cardists and magicians. As with the previous decks in the series, GS3 showcase the typographic Swiss design style, which was concieved in Germany, the Netherlands, and Russia in the 1920's, but was developed in 1950's Switzerland. The bold lines and curves of the text gives it a timeless and familiar feel. However, for this deck, the creator has taken this simplicity, and edged it up with his use of negative space and colour combinations, as well as asymmetric alignment. It makes a refreshing change from the traditional illustrated deck designs we are all used to.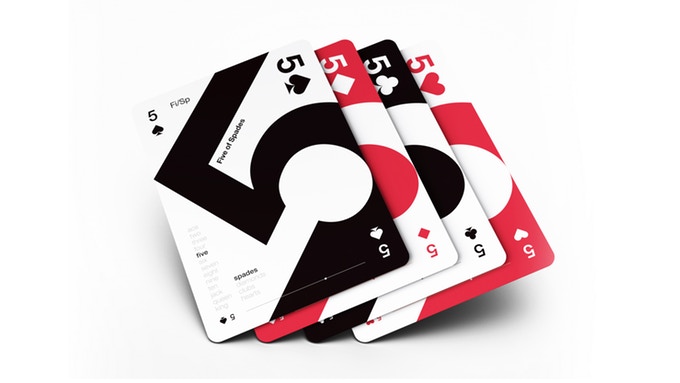 Each card's value is highlighted in a total of 8 different ways: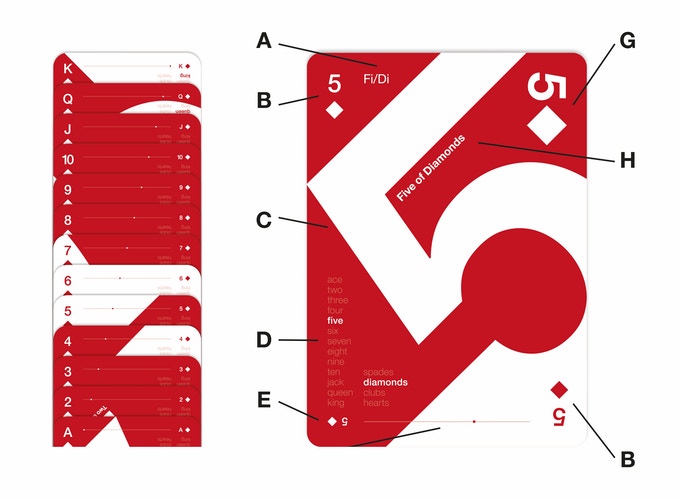 A) Abbreviation of the name; Five Diamonds = Fi/Di
B) Standard location of corner custom pips and indices
C) Graphic background of current card
D) List of standard 52 cards which become highlighted on the current card
E) Miniature card number and pip
F) A timeline of the cards in suit sequence with a marker moving along the line
G) Enlarged card digit and pip for easiest way to identify
H) Name of card written in full
Along with the standard edition deck, a few added extras have become available as the funding has grown. The amazing uncut sheet was released as an add-on to those who want something more from their artwork. This is when the full deck is printed and taken off the press but not sent to be cut and made into a deck of cards. So no, it's not just a poster or a 'print', it's actual card stock, it just hasn't been cut.
Limited to just 20 pieces, this would be an amazing addition to any wall. I've mine booked and I can't wait to get it. Imagine having one of only 20. In the WORLD. Now THAT'S a limited edition!!
GS3 Uncut Sheet – front – stunning!

GS3 Uncut Sheet – back design
Another unlocked add-on is the Limited Edition GS3 deck. Limited as in only 35 will ever be printed. The basic design stays the same, but with the outlines highlighted and no use of block colour, this is truly a unique deck.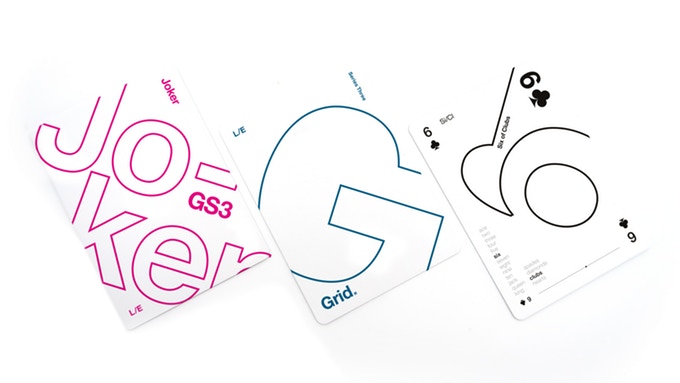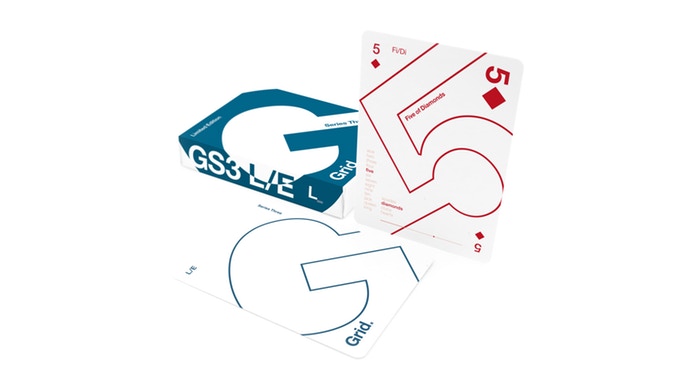 Likewise, the GS3 Mono Deck, which has also been unlocked, crosses the lines and curves of the Grid. decks with the edgy, grungy feel of the Mono – X deck which was Luke's last Kickstarter success. These too are limited to a print run of just 200. Printed this time by Cartamundi on their highly acclaimed True Linen B9 Finish, this deck is a cardist's dream. Oh, and a collector's must-have.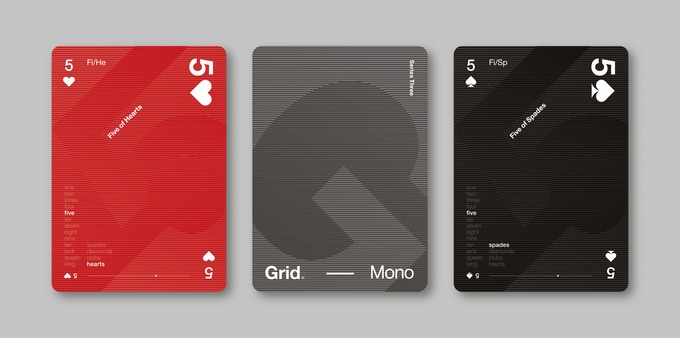 T-shirts are also available as an add-on. Printed by RudViolet right here in the UK, these t-shirts are made from 100% cotton in both mens sizes and ladies slim-fit. Available in black, yellow, and white, wear yours to show your love of GS3.

Together with stickers, posters, postcards, and phone backgrounds, this campaign offers something for everyone. Luke has really pulled out all the stops on this one, and that's reflected in the huge backing he's received for this deck.
It wouldn't be fair to Luke to attribute the success of the deck to the the deck alone, although it is a fantastic looking specimen. In his previous campaigns Luke has shown himself to be the sort of creator who not only appreciates each and every backer, but he also listens to and responds to them on an individual basis. Every message is answered, every query settled, every request met. This, I find, is key to a successful campaign. With regular posts and updates on his Instagram account, backers are offered a sense of community, each and every person there sharing a common bond – a love of fantastic playing cards.
If you're interested in adding a few of these decks to your collection, or even if you fancy a snazzy work of art on your wall, and a cool t-shirt on your back, then head on over to the Kickstarter page and make your pledge. Be a part of the success of Grid. Series Three.
Follow iCollectPlayingCards on Instagram and Facebook and please feel free to share this post on your own social media  accounts.
As always, any and all comments are more than welcome, so go ahead and use the box below. Any questions? I'm more than happy to help. Thanks :)





by